Recreation

Knox County is encompassed with history, beauty, and adventure. Visit the website with the link above for more information regarding the great attractions in this limitless county.
Chalupnik Park
J.J. Chalupnik donated land which is located on Main Street at the north end of the Verdigre business district. In 1979 the American Legion funded a drive to build a stage and shelter as memorial there to all men & women who had served in the American armed services. A playground also exists in the park. The gazebo built in 1987, an exact replica of the band pavilion which stood on the corner of Third and Main from 1913 to 1919, was moved from the park to Main Street in 1992
Wildwood Acres
Wildwood Acres Park got its start in 1972 when Dr. James G. Carlson donated 70 acres of land on the southeast edge of Verdigre. The 12 ft. deep heated swimming pool located in the middle of the park has a capacity for 210 swimmers and includes low and high diving board. The complex includes a wading pool for youngsters, a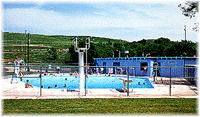 shower house and basket room. Lifeguards are on duty at all times. The pool usually opens on Memorial weekend and closes in the middle of August. The complex includes two fenced concrete tennis courts, basketball hoops and a bandstand. Just west of the pool is a large playground and a picnic shelter with a large stone fireplace.
A camping area with 2 sleeping cabins and 27 camper pads is situated amo
ng the tall trees to the south of the tennis courts. A sand volleyball court and bathrooms with showers are located at the south end of the park. The softball field is located on the northwest end, with a covered sandpile and small crows nest playground equipment nearby. A concession stand with restrooms is located by the softball field. A cement
walk path runs between the softball field and the camping area. Verdigre's Organized Women (VOW) sponsors the Avenue of Flags which includes approximately 200 U.S. flags lining the winding entrance road to Wildwood Acres Park. These flags are flown on Flag Day, Memorial Day, Veterans Day, Kolach Days, and Independence Day each year.
Area Attractions
Explore an area filled with history, beauty and adventure.
Ashfall Fossil Beds State Park
Scenic 20 minute drive. Step millions of years back in time. On-site excavations of Nebraska's prehistoric rhinos, camels and more. N. of Royal/Orchard, NE.
See trout rearing. Let the kids feed the fish. Canoe and fish on Grove Lake. Trout fishing on No. Branch of Verdigre Creek. Near Royal, NE.
"Bridging the Waters" Fest in July, Ponca Powwow in Aug., History museum, mural. Third-oldest and newest town in Nebraska (relocated to higher ground in 1960s). Great river and bluffs scenery. 12 mi. north
Year-round natural beauty and wildlife. Hiking, horse-back riding, historic river tours and more. Niobrara, NE. 12 mi.
Fun adventures on the rivers for family, group, and individuals. Personalized guided tours. Visit the website.
View Lewis and Clark's sighting of Old Baldy or enjoy a weekend movie at old-time movie theatre.
BerryPepper Days and Rib Fest 3rd weekend in June. Santaland in December. 16 mi.
8 miles away. Tiny town with chainsaw carvings (some interactive) and murals interspersed among "pioneer" storefronts. Mini-mall with antiques, crafts, natural foods and old-fashioned post office.
Historic flour mill museum. Bread 'n' Jam Festival in Sep. Drive-In Movie Theater (May-Oct) Neligh, NE. 30 mi.