Wildwood Acres
Wildwood Acres Park got its start in 1972 when Dr. James G. Carlson donated 70 acres of land on the southeast edge of Verdigre. The 12 ft. deep heated swimming pool located in the middle of the park has a capacity for 210 swimmers and includes low and high diving board. The complex includes a wading pool for youngsters, a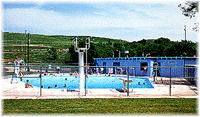 shower house and basket room. Lifeguards are on duty at all times. The pool usually opens on Memorial weekend and closes in the middle of August. The complex includes two fenced concrete tennis courts, basketball hoops and a bandstand. Just west of the pool is a large playground and a picnic shelter with a large stone fireplace.
A camping area with 2 sleeping cabins and 27 camper pads is situated amo
ng the tall trees to the south of the tennis courts. A sand volleyball court and bathrooms with showers are located at the south end of the park. The softball field is located on the northwest end, with a covered sandpile and small crows nest playground equipment nearby. A concession stand with restrooms is located by the softball field. A cement
walk path runs between the softball field and the camping area. Verdigre's Organized Women (VOW) sponsors the Avenue of Flags which includes approximately 200 U.S. flags lining the winding entrance road to Wildwood Acres Park. These flags are flown on Flag Day, Memorial Day, Veterans Day, Kolach Days, and Independence Day each year.